How LapFit Started...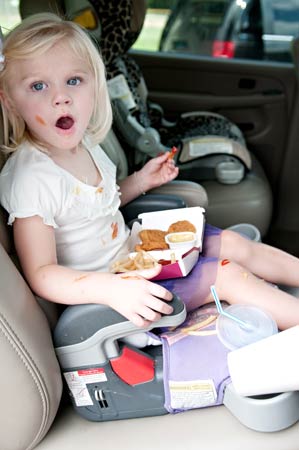 Five years ago, I decided to quit my day job to spend more quality time at home with my wife and four children. I traded in long days at the office and frequent travel for making lunches, coaching soccer and helping with homework. It has been exhausting - and it's been the best decision I've ever made.
I also became the family's unofficial "bus driver", which gave me lots of opportunities to drive thru McDonald's, Chick-Fil-A, Burger King, Subway...with four kids, I've made lots of stops.
Which is what led me to the idea for LapFit. I couldn't believe that there wasn't something out there to keep the back seat of my vehicle (and my kids) from looking like the food fight scene in Animal House after nearly every trip through the drive thru. Drinks spilled, ketchup everywhere, food on the floor, wrappers galore. Even after they "cleaned up" after themselves, the floor and upholstery looked like a war zone.
My wife and I tried everything. Carrying paper plates in the car (constantly fell off their laps). Taking condiment cups with us (usually tipped over). "No sauce or ketchup" rules (the complaints were deafening). Everything we tried simply failed.
We also needed something to keep our kids busy while we were shuttling back and forth to all of our practices and appointments. Something where they could play or do their homework. Something compact and easy to keep in the car.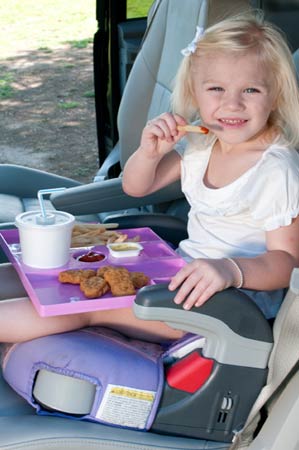 So, out of necessity, LapFit was born. Needing something unique, comfortable, stable and easy to use, I sketched the original design on the back of my son's math homework and, before we knew it, we were off!
I hope you enjoy and get great value from your LapFit tray. We are always looking for new ideas to make the product and the experience more satisfying. If you have any thoughts, feel free to share them with us by e-mailing
comments@LapFit.com
. Many thanks, and I hope you and your kids enjoy your "Eat, Work, Play Tray!"
Dave Francis
Founder
LapFit Inc.